2014 Endorsements
(2018 Supporters Coming Soon)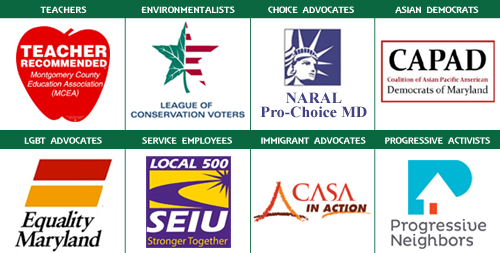 Organizations:
Montgomery County Education Association
Sierra Club
League of Conservation Voters
Clean Water Action
Progressive Maryland
NARAL Pro-Choice Maryland
Equality Maryland
CASA in Action
SEIU Local 500
AFL-CIO (MD/DC)
AFSCME Maryland
Progressive Democrats of America
Maryland Votes for Animals
Montgomery County Career Firefighters (IAFF Local 1664)
National Organization for Women Montgomery County PAC
African American Democratic Club of Montgomery County
Hispanic Democratic Club of Montgomery County
Montgomery County Public Schools Retirees Association
Progressive Neighbors
Coalition of Asian Pacific American Democrats of MD
SEIU Maryland/DC State Council
Elected Officials:
Congressman John Delaney
State Senators Jamie Raskin & Rich Madaleno
County Councilmembers Valerie Ervin & Nancy Navarro
Delegates Sheila Hixson, Al Carr, Ana Sol Gutierrez, Jeff Waldstreicher, Susan Lee & Aruna Miller
Takoma Park Mayor Bruce Williams
Takoma Park Councilmembers Seth Grimes & Jarrett Smith
Advocates & Community Leaders:
Howard Kohn, Diana Kohn, Marie Ritzo, Marlana Valdez, Joseph Eyong, Kate Rhudy, Casey Anderson, Abigail Burman, Jean Athey, Sue Udry, Thomas Nephew, Martine Zundmanis, Usman Ahmed, Jonah Gold, Josh Gruenspecht, Rob Richie & Cindy Terrell, Tina & Don Slater, Lisa Polyak & Gita Deane, former Montgomery County Democratic Party Chair Stan Gildenhorn, Somerset Mayor Jeffrey Slavin & more!
TESTIMONIALS
* Organizational affiliations listed for identification purposes only
SENATOR JAMIE RASKIN

- "Born in Takoma Park to Korean immigrants, David Moon has had an unusually effective career as a grassroots political organizer, civil liberties and civil rights policy consultant and attorney, and founder of the awesome political blog Maryland Juice, which was named one of the nation's best by the Washington Post. A champion of insurgent reform politics, David volunteered to manage my underdog campaign for the Senate in 2006 and, through many sleepless nights and by precocious mastery of the new social media, built the organizational infrastructure for the movement that changed Montgomery County politics forever."

"Recognized for his dazzling political mind and devotion to social justice in our community, David went on to run numerous successful campaigns at the county and state level. He also used his formidable political skills to mobilize thousands of Marylanders to defend at the polls our legislative victories on marriage equality and the Dream Act. What impresses me most about David is his wonderful modesty, his passion for service to our community, and his love of making both democracy and new technology work for all. He will make an exceptionally able and faithful servant to Silver Spring and Takoma Park in the House of Delegates, and I support him with pride."
MONTGOMERY COUNTY EDUCATION ASSOCIATION

- "David Moon is an experienced political and community activist who has a detailed grasp of education issues and the social issues that affect public education."
LEAGUE OF CONSERVATION VOTERS

- "David Moon is a strong choice for environmental voters and Maryland LCV is proud to endorse him for one of the two open seats in District 20."
SEIU LOCAL 500

- "We have known David Moon for a long time," said Merle Cuttitta, President of SEIU Local 500. "He has worked alongside Local 500 members to elect candidates who recognize the vital role and unique concerns of working families in Montgomery County. Now that he has made the decision to run for elected office himself, our members are proud to stand with him and support him." SEIU Local 500 represents over 20,000 workers across the region, including Supporting Services Employees in Montgomery County Public Schools, Part-Time Faculty at Montgomery College and Maryland Family Child Care Providers.
CONGRESSMAN JOHN DELANEY

- "I'm very pleased to endorse David Moon for Delegate in District 20. David has four characteristics I admire in public servants: he's running for the right reason, he's smart, he values openness in the public discourse, and he's willing to aggressively work towards his goals. David has been an outspoken advocate for a number of policies I believe in, including raising the minimum wage, an issue we have both worked on in the last year. In Annapolis, David will continue to pursue transformative public policies to help Marylanders and he will hold elected officials to a high standard of transparency, both good things to my mind."
VALERIE ERVIN, FORMER MOCO COUNCILMEMBER

- "I am so proud of David Moon for walking the talk. He is a true progressive who will help to make life better for those in our community who are struggling and forgotten."
RICH MADALENO, STATE SENATOR

- "Change is made by people posing ideas that a lot of people find scary. But District 20 isn't just the most liberal district in Montgomery County -- this is probably the most liberal district (outside of Manhattan) on the East Coast. You need people who are going to represent you and propose interesting, progressive ideas -- the sort of ideas that when they first come up scare the heck out of a lot of people. David Moon is innovative and progressive, and he's the type of person we need in Annapolis to help make change occur. He's already had such an impact, and I've seen him in action -- he does it with skill, bravado, integrity, and honesty."
CASEY ANDERSON, TRANSIT & SMART GROWTH ADVOCATE

- "This race is a referendum on the idea that things have changed & people want something more from their politics -- Democrats especially. David Moon is the essential candidate of the election cycle."
NANCY NAVARRO, MOCO COUNCILMEMBER

- "At some point there's that tipping point, where a paradigm shift happens. David represents who we are. The business as usual model is not working and for this moment in time, which is so unique, we need David."
SETH GRIMES, TAKOMA PARK COUNCILMEMBER

- "I endorse David Moon. David Moon knows his way around campaigns and state politics and the issues, of course with the progressive take that we expect from all the Democratic primary candidates. He's a strong strategist and a great communicator.... "

AL CARR, STATE HOUSE MEMBER

- "In the General Assembly, there is a generational change going on. There's a real opportunity to add a lot more progressive voices. David has all the qualities you would want -- especially representing District 20 & progressive values."
JEAN ATHEY, PEACE ACTION MONTGOMERY COORDINATOR

* - "David Moon has consistently alerted us to the most important legislative issues. He is a true progressive activist. We need legislators in Annapolis with David's intelligence and character."
ANA SOL GUTIERREZ, STATE HOUSE MEMBER

- "We need to have people who are going to speak up. We know perfectly well that Montgomery County has huge needs. We're going to have to work and knock doors to make sure we send David to Annapolis."
In 2006, I managed
Jamie Raskin's first campaign for the State Senate: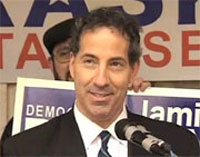 "Thank you for the amazing sleepless commitment you have shown to this 'impossible' quest for a year. People will come to study your work in managing an insurgent progressive campaign that everyone agrees has been unprecedented in Maryland state legislative races."
9/14/06 - 2 days after his primary victory in his first State Senate campaign