WHAT I'VE BEEN WORKING ON:
Read my email newsletters discussing policy & legislative updates below. As a member of the House Judiciary Committee, I've prioritized social and economic justice legislation during my three legislative sessions in Annapolis -- with a particular focus on election reform, criminal justice and civil liberties.

To receive regular updates about my work, please join my email list [ HERE ].
---
My Priorities
Silver Spring & Takoma Park Democrats: Voters in Maryland have demonstrated they are now among the most progressive in the nation, and that fact is more true in Silver Spring and Takoma Park than anywhere else. But it's now or never for us to start tackling the most difficult social and economic justice issues. That's where you come in.


I'm running for re-election as a progressive Democrat for the Maryland House, and

I need your help to advance justice

:
HELP THE MIDDLE CLASS, NOT BIG BUSINESS & MILLIONAIRES: In recent years, Maryland has cut taxes on millionaires, yacht owners, casinos, Hollywood studios, and multinational weapons dealers. I'm one of the few House Democrats to not only vote against these proposals, but to stand up and speak out against them. Meanwhile

efforts to create a living wage, close corporate tax loopholes, and fully fund our social safety net, transportation & infrastructure have stalled

. It's time to get our priorities straight and end trickle-down economics in Maryland. I've passed legislation to lower the cost of government services for the homeless and to provide funding for developmentally disabled foster youths, but it's disheartening that these bills took great effort to pass, at the same time that we easily passed tax cuts for casinos and defense contractors that cost many times more than my legislation.
PRIORITIZE WOMEN'S PAY EQUITY: Despite being more educated than men,

women today still only make 77 cents for every dollar a man earns

. The problem is only becoming more complicated with skyrocketing childcare costs and workforce policies that are hostile to families and working moms. It's time to lay the groundwork for true pay equity and to advance universal childcare and paid parental leave in Maryland. I passed a bill to lower the cost of building new child care facilities in Montgomery County, but that's just a small step forward. We need to make affordable, high-quality child care available to all residents.
CHALLENGE CORPORATE POWER: In an era where corporations are treated like human beings, 22 states have banned corporate contributions to candidates.

Maryland is not one of them

. It's time to fight back against industry influence on policymaking, and I'm starting by rejecting corporate money in my own race. I've also sponsored legislation to ban direct corporate donations to state campaigns, as even Congress has done, but I need your help for this legislation to gain traction in Maryland.
AGGRESSIVELY REDUCE CLASS SIZE & MAKE COLLEGE AFFORDABLE: Overcrowded schools are the norm in Montgomery County, while college tuition rates put many students in massive debt. Meanwhile,

in our part of the county, we have surging enrollment

from low-income students and children who speak English as a second language. To do right by these young Marylanders, we must reduce class sizes and make college affordable, and we have to do it now. It's time for us to double-down on education funding, but we can't do that while we continue passing tax cuts for big businesses and millionaires, all while we face a deficit of nearly a billion dollars over the next few years. That deficit has been created almost entirely by two tax cuts benefitting millionaires in Maryland.
GET REAL ABOUT CLIMATE CHANGE: While many Democrats in Montgomery County consider themselves environmentalists,

Maryland continues to subsidize dirty energy sources and protect big agricultural pollution in our state

. We need to stop these practices and instead expand Maryland's investment in true renewable energy sources like wind and solar, and to invest in transit alternatives to highways and sprawl. But to really make these efforts work, we've got to take on corporate power, invest in infrastructure, and challenge the outsized influence of factory farms and polluters on our state's environmental policy.
END THE FAILED WAR ON DRUGS IN MD: It's time for a grown-up conversation about our criminal justice system. Maryland has made great strides in curbing mass incarceration policies in the last few years, but we have far to go. We very recently led the nation in marijuana arrests, and

black residents of Montgomery County were over 3 times more likely to be arrested for possession than white residents

. This incarceration regime wasted between $100-$200 million a year in tax dollarsand ruined the lives of many residents by barring them from employment, student loan eligibility and more. Let's look at the evidence and continue rolling back the failed "War on Drugs" in Maryland. I passed legislation allowing residents with minor marijuana possession convictions to expunge their records and start their lives anew, but there's much more we can do.
In 2006, I managed
Jamie Raskin's first campaign for the State Senate: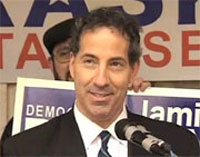 "Thank you for the amazing sleepless commitment you have shown to this 'impossible' quest for a year. People will come to study your work in managing an insurgent progressive campaign that everyone agrees has been unprecedented in Maryland state legislative races."
9/14/06 - 2 days after his primary victory in his first State Senate campaign