YOU'RE INVITED - Friends, time is flying & we're one year out from my next election! I'd be grateful for any assistance, as I voluntarily reject corporate donations & have new voters to reach after redistricting.



David Moon Re-Election Livestream: One Year Out
Tuesday, May 25th 6-7pm



MARYLAND JUICE - To get everyone reinvigorated for the 2022 Democratic Primaries, I'll be hosting a fun panel of politicos from around the state to make predictions about upcoming local races & the emerging Governor's race:
House Speaker Adrienne Jones
Senator Jill Carter (Baltimore)
Delegate Ken Kerr (Frederick)
Alderman DaJuan Gay (Annapolis).
---

RSVP with an online donation of any amount:


Alternate Donation Link: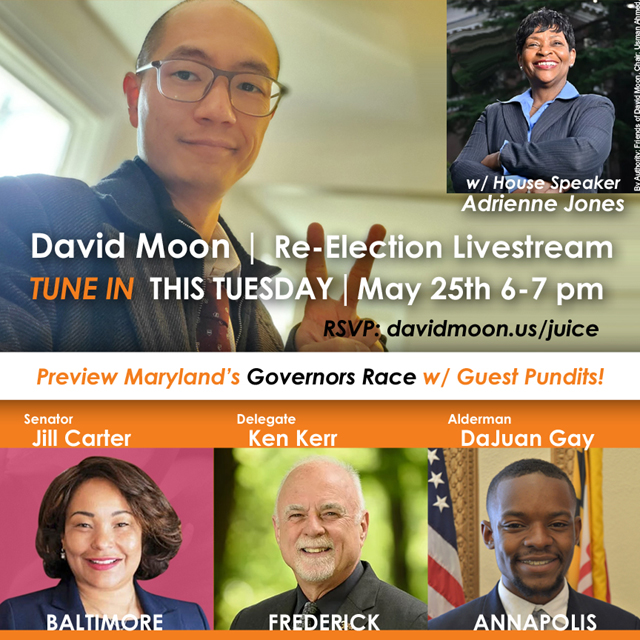 DONATE BY CHECK
payable to "Friends of David Moon"
Mailing Address: 30 Ritchie Ave, Silver Spring, MD 20910.
---
By Authority: Friends of David Moon. Chair: Marlana Valdez. Treasurer: Usman Ahmed.


---
DISCLAIMER: I do not accept corporate contributions. In addition, by making a donation above, you are certifying that each of the following statements is true: (1) I am not a foreign national who lacks permanent residence in the United States; and (2) This contribution is made from my own funds, and not those of another.

You may contribute no more than $6,000 to each Maryland state campaign account during the four year cycle, including in-kind contributions. The current cycle began on January 1, 2019 and will end December 31, 2022. Contributions to political campaigns are not tax deductible.