David Moon Re-Election Fundraiser
Mi Rancho (Patio) | Wednesday, May 11th 6-8pm
8701 Ramsey Ave, Downtown Silver Spring

DONATE ONLINE TO RSVP:

Having Trouble w/ PayPal?
Alternate Online Donation Link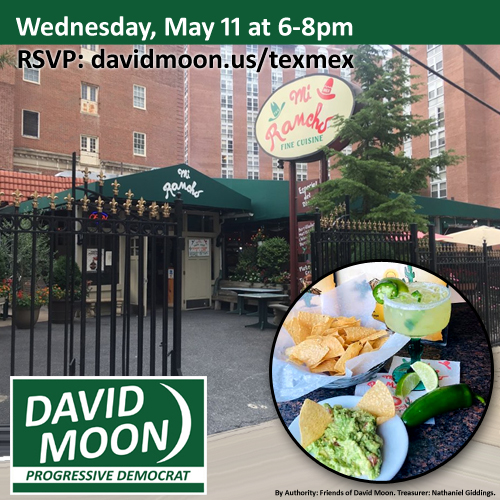 Friends & Neighbors: Please join me & House Speaker Adrienne Jones for a tex-mex party at Mi Rancho's open-air patio! I've got a challenger & voluntarily reject corporate donations, so I'm relying on the grassroots to get re-elected. Please join me for tasty tex-mex snacks, margaritas & special appearances by newly appointed Committee Chairs. Donate what you can afford, nobody will be turned away!

Suggested Donation Amounts:
$50 - Single Ticket
$100 - Supporter
$200 - Friend
$500 - Partner
$2000 - Sponsor
$4000 - Champion
Or Donate What You Can Afford - All Are Welcome!
DONATE ONLINE TO RSVP:

Having Trouble w/ PayPal?
Alternate Online Donation Link
---

OR DONATE BY CHECK
Bring a check to the event payable to
"Friends of David Moon" or mail it to:

Friends of David Moon
c/o Nathaniel Giddings
125 Geneva Avenue
Silver Spring, MD 20910
---

DISCLAIMER: I do not accept corporate contributions. In addition, by making a donation above, you are certifying that each of the following statements is true: (1) I am not a foreign national who lacks permanent residence in the United States; and (2) This contribution is made from my own funds, and not those of another.

Note that a person can contribute no more than $6,000 to one Maryland state campaign account during a 4-year campaign cycle, including in-kind contributions. The current cycle began on January 1, 2019 and will end December 31, 2022. Contributions to political campaigns are not tax deductible.